On the Gold Coast corporate massage is becoming increasingly popular. Why not use corporate massage to boost your staff productivity?
In fact, corporate massage is performed in various workplaces. You read that right. We come to you to help you power through your day with renewed feelings of relaxation and vitality. This cost-effective massage program of on-site seated neck and shoulder massage for either a 15 or 30 minute period is being used by many employers as incentives for new and existing staff.
Loving your job might take on a whole new meaning as you get to look forward to a short session of a stress-relieving massage to interrupt the routine part of your day. But why are employers giving their staff some much-needed massage time? Well-cared for employees make productive employees. This ensures that your workplace environment is as productive, stress free, and relaxed as much as possible.
Studies show that a corporate seated massage can be a productivity booster while it also helps to recharge the employee's body and mind, relieving physical discomfort. It physically and mentally relaxes the employee and revitalizes them in the workplace. You personally can experience…
Benefits of Corporate Massage
Reduced stress hormone levels
Release of happy hormones (oxytocin and serotonin)
Euphoria
Relaxation
Improved mood
Enhanced positivity and attitude
Lower blood pressure
We don't think it takes a lot of convincing to get someone to take a 15 minute break to unwind and de-stress while at work. So, below are some common questions about what a massage in the workplace would look like.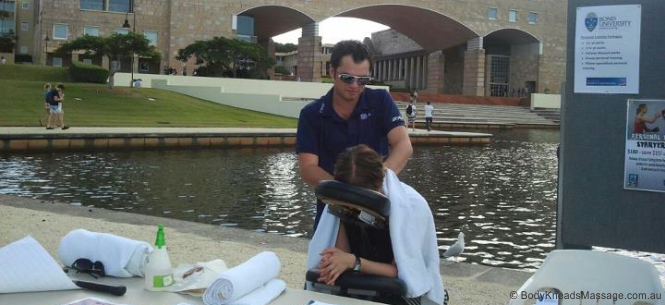 Q. How long do these work place massages take?
A. Depending on the previously agreed contract with you or the employer, it could be as quick as 15 minutes or as long as 30 minutes.
Q. What techniques would a corporate therapist use?
A. The goal is to help get you to de-stress and loosen up your body to help you power through your day. The therapist will use movements such as flowing strokes, gentle manipulation of muscles, and kneading at a comfortable pressure.
Q. Who brings the equipment?
A. We bring everything we need to provide high-quality massages in the workplace. The only requirement you have, is to sit back and relax.
Q. What work-related symptoms can it help me with?
A. The pace of work and life can be stressful for the body causing many forms of discomfort. Getting a massage can help to relieve headaches, neck pain, back pain, muscle tension, symptoms of postural misalignment, stress, and anxiety.
Q. How can a massage at work improve my attitude toward my workplace?
A. For many, the workplace can be a stress-inducing environment. Getting a stress-relieving massage in your work environment can help you to associate positive, productive, and relaxing attributions to your workplace and co-workers. The more relaxed you are, the more relaxing you can make your environment.
Whether you're wanting to catch a session on your lunch break or your boss is treating you to one, the massage will put a smile on your face that will last you through the entire day. You don't need to make any after-hour appointment arrangements to race to the therapist office while off the clock, and you don't need to change out of your suit to get in a relaxed mood.
There really is no downside to getting a good, stress-relieving massage while in the office. Let us turn up and work our magic. Appointments are required for a corporate massage on the Gold Coast, so get in touch with us today to get yours started.