Are you looking for a remedial massage on the Gold Coast? Our qualified massage therapist can ensure you receive the best treatment possible to soothe your aches and pains.
This type of massage is a deep form of massage therapy that helps the body achieve a condition of optimal health after experiencing injury. At Body Kneads Massage Gold Coast, remedial is our most popular service requested since injury is more prevalent to occur during intense physical activity and sports. Typically, a massage of this type requires an initial evaluation to determine where you need treatment and what possible causes are generating pain. This enables you to receive a tailored-made treatment plan that can help towards a pain-free and mobile life again. Most injuries where the skin remains intact is a good reason to get a healing rub-down from a professional therapist. It can be used to treat the following:
Uses of Remedial Massage:
Strains
Sprains
Broken bones
Bruising
Headaches
Stiffness
And more…
Many people don't know that they have the option of a remedial massaging and what it can offer them. Below are common questions that help to inform you of how you can improve your function, mobility, and quality of life with this type of massage.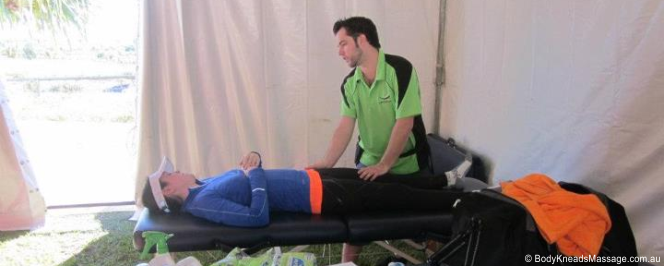 Q. What's the difference between remedial and a regular massage?
A. Remedial is ideal for those that have suffered an injury and need to prepare and optimize the body's condition to heal correctly to enable a pain-free and mobile life. A regular massage is typically a relaxation massage that is used to de-stress the body and mind. This can be sought after by anyone, with or without injury.
Q. What kind of physical treatment or techniques can I expect with a remedial massaging?
A. Since every individual and injury is different, the treatment plan will vary from person to person. It could involve some deep tissue massage for short periods of time or kneading and manipulations of muscles.
Q. How often should I get this type of massage?
A. Depending on your needs, you should plan on being seen on a regular basis. This is to help improve your mobility and function to prevent your condition from becoming painful and problematic. This could mean you should be seen every week for a period of time until you can eventually space sessions out until the condition returns to normal. Some injuries can be treated in just a few treatment sessions and a mobile massage therapist may be available to come to you.
Q. Can you come to me?
A. Absolutely! We can cater to you in the comfort of your own home or even in the workplace. Our mobile massage services makes it a convenient option for you whether you're just visiting the Gold Coast, you're schedule is packed, or you simply want to be seen in the privacy of your home.
Q. How long does this type of  massage last?
A. If you're looking for a whole body massage, you can expect to spend about 90 minutes in a session. If you're looking for relief for two to three problem areas, about 45 to 60 minutes is sufficient. One problem area should only take about 30 minutes in a session.
Q. Who would need a remedial massaging?
A. Many people who request one of these massages are athletes that have suffered some form of injury. Non-athletes can also be recipients of remedial massaging. Long-term, chronic conditions, road traffic injuries, stairway falls and much more are reason enough to benefit from a one of these massages.
You don't have to suffer in pain or wait out the injury. Not doing anything can cause the body to heal and repair incorrectly. Give your body the best chance to improve its condition to help you live a quality life again. If you're ready to help get your body back to optimal shape with a massage on the Gold Coast, please contact us today.