5 Healthy Eating Recipe Ideas
Healthy eating is quite easy to achieve, if you have access to recipes that you can use over and over again.
Here are five quick and easy healthy recipes that you can use to help maintain a healthy lifestyle. All of these recipes call for fresh ingredients, are low in fat and cook in under 30 minutes, so it's easy to stick to using them!
Chicken Parmigiana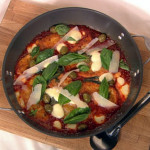 Enjoy this low-fat version of the popular Italian dish.  Serve with whole grain pasta or steamed vegetables for an added health-kick. Remember to not drink calories as well. Drink 1-2 glasses of red wine only with a meal and avoid any fizzy drinks – water is always your best option.
Thai Pork Larb on Noodles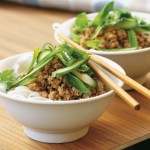 This recipe creates fresh, crisp flavours that will have your mouth watering. Go ahead and add extra vegetables to increase the healthiness factor.
You can get the Indonesian chilli paste that the recipe calls for from Asian food shops and selected supermarkets, just check your local supermarket for details.
Mango And Yoghurt Pops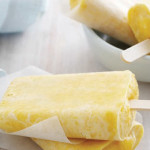 Perfect for those hot summer days! These low-fat, healthy ice blocks will have you feeling refreshed and guilt free! Make as many as you like. They are perfect for the kids as well – why not serve these to them instead of the sugar high ones you buy at the supermarket!
Sweet Chili Chicken and Noodle Salad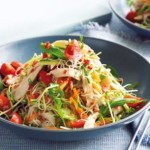 This noodle salad combines sweet and spicy flavours, creating a different and tasty dish.  The salad is low-fat and high in protein. If chicken isn't your thing, you can add fish like tuna to the dish instead, or go meat free and use tofu for a vegetarian option. Add pine nuts for additional flavour.
Greek Spinach, Egg & Lemon Soup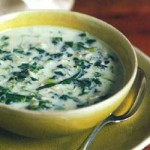 This recipe calls for fewer egg yolks, reduced-fat stock and brown rice, making this version a healthier alternative to the traditional Mediterranean-style soup. These substitutes do not compromise on the texture and rich flavour of this traditional soup though, so you can still expect to enjoy this dish if it's one of your favourites.
By adding these recipes to your healthy meal options menu, you'll be well on your way to living a healthier lifestyle. These dishes are ideal for your lunch meal. At dinner meals, aim for a light salad or protein shake as your metabolism slows down at night and can't process heavy carbs.